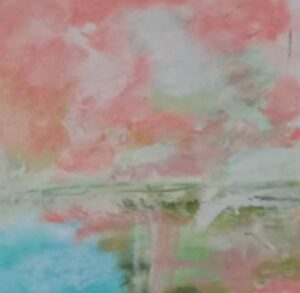 "The only lasting beauty is the beauty of the heart." ~Rumi
"I am going to make everything around me beautiful – that will be my life." ~Elsie de Wolfe
My wish for you~
That you flood your world with more beauty, more color, more inspiration, more connection to your heart and to what moves you.
That you allow yourself to fall in love with the simple, the visceral, the sensual, and the sensory.
A calling to be present, to live in your heart, to rest in the guidance of your IntuitiveBody. A quieting of the mind that let you live in the pleasure of what you feel. To let the heart lead.
This is an invitation to follow beauty everywhere and gather it close.
Where you can feel it land in your body and senses, where you are changed by it.
I want my pieces to ripple into the world. Into a room. Into a heart. To bring new energy and feelings, to create with you, to help you return to the space of your own beautiful heart, your body, and the knowing that you are sacred ground.
I am an untrained artist.
My pieces, like most things in my life, come from an intuitive sense.
A willingness to be guided and let things move through me, my IntuitiveBody is where everything begins. The inspiration, and choices that flow easily without much thought. I very rarely know what will land on the page and I love that freedom.
The process is true heaven for me.
Always more heart than mind,
More sensing, less thinking.
Right now my creative medium is oil pastels.
The colors are so saturated and pigmented.
The texture so tactile and mutable.
I can use my fingers to smear and mix and layer.
I cannot tell you how much I love them.
How they are the perfect medium for me, who adores simplicity.
How they found me at the perfect moment as my last dog of my pack of 5 was dying.
How making these pieces connected to me my lineage (artist mother and both parent owned design businesses).
The perfection of timing, of guidance, of opening, of saying the holy yes.
And how when I stepped into my artist-self, I felt more whole, more myself than any other time in my 60 something years.
It is my deep honor to offer these to you. I hope you find something
you love, or that we can create something just right for you.
I am offering the artwork slowly right now.
At present, there are two ways to own these pieces
1- My IntuitiveBody collection. Already made, inspired from moments of personal inspiration. Ready to go,
2. Commissioned by you, a piece created for you, customized to
serve and support you. Includes a conversation where we explore a bit of what you hope for. Those intentions and wishes then translated into an intuitive piece that is just for you.
Please feel free to contact me to find out more about what is offered and also how I can create something that's just for you.
All my love, and every blessing~