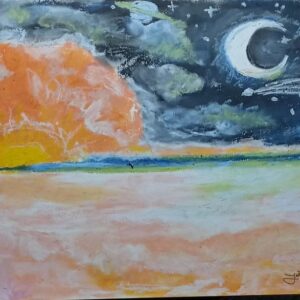 Sometimes, when you've been looking for a solution for a longstanding problem, like emotional eating or binge-eating, nothing will move. And you're tired. Frustrated. Judging yourself.
In these moments, it's reasonable to ask yourself if this is something you *really* are willing to put in the time and effort towards.
Do you really want to work that hard? Are you really willing to do what it takes?
This inquiry is not an excuse to berate and self-harm with all the judgements and beliefs that haunt you. It's a chance to talk honestly with yourself about what you can and can't commit to. About what feels best.
In THIS moment. It's not about forever or how you 'never' will.. or anything that sounds heavy handed.
It's worth pausing to ask the questions to see where you stand. It's worth giving yourself the space, and the lack of judgement to hear the answers.
Sometimes the answer will surprise you.
Either way, you are allowing yourself to speak truth from your heart.
Always a good thing.
And when you let yourself consider what you want, and the timing, you may be able to soften things,
You may not want to chase this elusive result anymore. You may not have the heart to go thru what is necessary to make a big change. You may be bored with the problem or decide it's not really impacting your quality of life in the ways you'd imagined.
And giving yourself this option, matters. It's a loving and reasonable choice. Directing and managing your energy in ways that are really meaningful and also tenable for you, is a mature and self respecting decision.
What feels stale and never-ending right now? Could you imagine letting it go? Even for a time? While you refresh yourself and fill yourself up in some other way?
When I ask some clients if they could let the strugglego for a bit, walk away for now.. let themselves off the hook… many will say something like they are not sure how they would know who/where they are without this tension and conflict.
It's a hard place to be.
You can't go towards it and work towards a solution but you can't walk away.. you're hooked.
And that's a problem…where the conflict is the norm.
We want to bring you to a place of peace, acceptance, self-trust.
Where can you bring in some space, some distance?
Where can you find something that feels fresh and holds a bit more of the inspired and the heartful?
Where can you find a small crack of light that allows you to start again, gently, with compassion, and with intention?
The paradox is of course, that when you can allow yourself to feel what you feel, to let the feelings have their 'say', you are more free to shuffle the deck and find new solutions that are a better fit.
Or if you've been consuming loads of online teachings, maybe you'd be better served by some really
Either way, I'd love to help. I offer both.
My beautiful do it yourself deep exploration, over 40 days, the number of miracles and transformation… Breaking the spell.. with email support when and if you want it. Right here.
An investment? Of course it is! In you.. and in ways that will ripple into EVERY single area of your life, gently, and without you really knowing how it's all getting SO much better.
Where can you find a small crack of light that allows you to start again, gently, with compassion, and with intention?
This is how I've supported clients for 35+ years, and changed theirs and their families' lives… pls reach out if you think you might be ready to explore some new solutions.