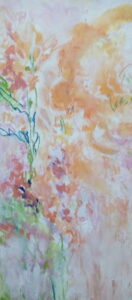 The energy of war and mayhem, provides an opportunity for more love, more beauty, more heart. That is one thing we know during crises, losses… we feel more, we connect with each other in beautiful ways.
If you find yourself wanting to write love notes to friends, to your kids, to anyone at all… do it.
If you find your heart breaking a little and feeling tears behind your eyes from a piece of music, or a gorgeous photo, or from thinking of anything that melts your heart a bit… let it.
If you know that a certain something that is delicious or nourishing, or just right even if it takes you off your regular ways of staying healthy…have it.
If you need to take a break from the usual and the routinized and the dutiful, and know that you need to make art, to create something from the heart, or possibly something beautiful, but also possibly raw and raggedy… your own art your own way, to get the emotions and the chaos out of the body… follow that.
If you feel bewildered at the chaos and the nonstop relentless changes we are all being subjected to, and you can only sit quietly on the floor, or the couch, as you try to metabolize the shock waves and the grief and stare into space… sit and stare for awhile.
If you crave the connection to the wild to the natural to things that seem even a little bit immutable, deep and rooted, like they've been there forever, if that is where you find the mystical and the magical, the beauty and the untamed, if you need to walk by the streams or in the wood, or sit and look at a fallow field where the hawk soars overhead… go there.
You are guided, you are loved, you are part of the whole and all of the other hearts that are cracked open…

Keep your energies and emotions flowing, moving, in whatever ways work for you. You are
needed. Your prayers, your ideas, your words, your creations.. your heart. So needed.

Let this love of your own heart and of the collective pour through, and flow and move as a power that is equal to the ugliness of the trauma of war and the brutal ambition of a maniac.
My love to you.. to us all… whisper your prayers without ceasing and stay in your heart. I was always taught that "God would play the final hand"… and though I am not religious, those words comfort me. Stay the course, keep your heart soft…fill yourself with beauty and everything that nourishes, love the one you're with… all those things matter and will help.

As always i am offering no pressure consultations, first one for free, to explore whatever is on your heart, to provide fresh insights and perspectives, solutions and strategies to take with you right away. A conversation that could change your life (really). Just reply to the email…