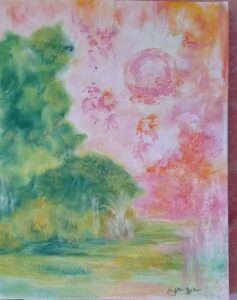 I woke up with a sort of PSA running as I made coffee today, and so I am typing away in a stream of consciousness.. maybe you need to hear this.. I did. War. Pandemic. We are weary.

My prayers always include the words, "I am listening'. These are the words that are my ritual to receive guidance… simple and powerful, like all good rituals.
I saw some of my own patterns wobbling… knew where I needed to fortify and where I needed to retreat….
I believe in taking our awareness, our consciousness, our knowing, also known as your #intuitivebody to heart. Literally.
Let what you know, LAND… in your visceral body.
The moment you get a whiff, a hint.. of something that will do damage, that will stir up the remnants of past trauma, of dynamics that bring you back to your core wound(s)… stay present.
Pick up your toys and go. This is not a time to be curious (one of my fatal flaws.. my curiosity about people, wanting to see what will unfold).
To stay longer is to choose to become embroiled (again) in old trauma, old wounds, old patterns of defeat, of feeling unworthy or powerless or unloved.
We are necessarily more attuned and more sensitive to all right now.. Our survival skills are dialed to the max, as they need to be, there is so much danger and distress and bewilderment…
Our world as we have known it has been crumbling for a long time. And we don't know where we are or what will be.
Take the notion of 'self care' seriously.. go beyond the superficial. Right now it is imperative, that your 'self care' really be about knowing who you are, where your edges are, what will support and help you to thrive, what will strengthen your system and allow you to best embody it… or.. what will weaken you, what will drain and deplete you, what will throw you in to a regressive less powerful and less clear place.
Tell yourself the truth. Feel what you feel in ways that let you discern what is nourishing now and what is absolutely NOT. This is a time for clarity, for spare clean choices, for essential routines and rituals that will keep you in balance and in courage.
Do the next right thing, and the next.
Slow and steady and with an eye on the horizon and the light.
In your heart~ as soft as you can stay there amidst these times.
Love yourself and others.
Rest before you are depleted.
Make art and #followbeauty in as many moments as you will.

And.. as always always.. please reply with questions, thoughts, you can reach me here. I love to connect with you and will absolutely respond. You can also book a session with me to receive feedback and guidance.. first one is free, and there is no obligation… I consider this a form of service and a way to connect that is precious to me and potentially life-changing for you. Really.
That's what I have for now.