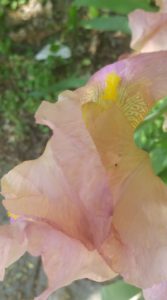 ⚡️💜What doesn't get talked about around emotional eating or losing the weight or why people gain it back… not easy truths but important to know what you're up against and why support is essential for LONG term success! ⭐️🌿🧚‍♀️
One of the BIG reasons people don't lose the weight, or that they gain it back (diets aside.. this is about something different).
I saw it today with my wonderful brave client. When you put the food down, calm the addiction, start to take beautiful care of yourself, start to face your fears…
You feel better. And… you feel MORE. Of everything. Including desire. You start to want more. You start to question things in your life. Maybe your job. Maybe your marriage. Maybe your friends and those dynamics. Maybe wanting things that frighten you to want.
You start to feel more powerful. Your feelings and emotions and fears… are right there. Nothing is masking them anymore. You're not doing the self hate talk around the weight or the eating… suddenly there is space. And the feelings are RIGHT there.
Feeling more not always easy… especially when you've had this mechanism forever and every to keep feelings at bay.
And as you start to try on new behaviors, new clothes, new aspects of yourself, new archetypes…. you may feel great.. and you may simultaneously feel really scared..
Like WHERE will this lead?!!
And the answer is, you don't know. Now you are in a different realm, you are allowing yourself more possibility… more honesty, more feeling, more empowerment, more worthiness..
If you think that isn't going to shake things up…. you will be way wrong. Change is scary enough to make you reach for a bag of gummie bears. Or to find yourself ordering a pizza….
Those foods that remind you who you REALLY are (or who you thought you were all those years… filled with shame, self loathing, sense of being unworthy, unlovable)… Reach for those foods now and you can slip on the old way of being, you can hide, you can tell yourself you're not really brave or deserving or beautiful… you can STOP all that forward motion, all those choices, all those questions.
This is real. this is what happens when you make a big change whether it's food/eating/body related or shifting some other pattern that has defined you, that has limited you..
Once you start to break free… a lot of other things start to move… and those changes can be really terrifying. And that is when people either return to the old familiar 'safe' ways… or they keep going and do the really deep powerful work to break through and stay there minus the self sabotage.
When we make a change… we don't know where it will lead.. and we tend to choose the familiar no matter how painful.
I am so proud of my client… who is making ALL the changes… asking ALL the hard questions, feeling ALL the big feelings, reliving all the FEARS of what might happen if she were to become more powerful and more of herself…
It's beautiful work. I am honored to be part of it, and I am thankful to be able to facilitate and inspire and support my clients on these great big huge life changing journeys that change them but also change how many other lives they touch, and how they make a difference… as they start to dream and do bigger.
What's possible for you? Can you really change the patterns that have dogged you for maybe forever? OR maybe that you thought you'd finished with but have reemerged in the last several months?
Let's talk… I want to hear what you're up against, what you've tried and what you want… I can help.. usually in a single session (first one's on the house) and you'll leave with new insights and strategies.. guaranteed. Reach out and we'll book a call at a time that works for you. xo lisa ⚡️💜⭐️🌿🧚‍♀️
#LivinginBeauty
#HeartFULL
#YouAReTheTemple
#BreakingTheSpell
#BeautySchool