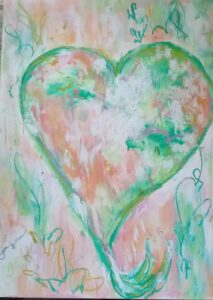 Beauties,
If you've struggled with emotional eating, overeating, food addiction, struggles around weight… this is brand new, and includes everything I've offered my clients in private sessions. Powerful content with gorgeous rituals to connect you to your center… Everything changes from this place.
….My life's work, my legacy… now in a 40-day container of the magical+mystical for you… daily, in the privacy of your own domain… to take in and use for your healing from emotional eating. This is personal, a culmination, emotional… I am so very happy to offer this as a part of my decades of work helping women break the spell of emotional eating and the underlying themes and struggles my clients share. For you.. with so much love.
Coming soon (VERY soon, available 9/22)… 40 days of the beautiful+the mystical for healing emotional eating and struggles with loving your body. Filling yourself up with the gorgeous, the potent, the sacred… an initiation, a walking through a portal…
The POWER and MAGIC of 40- long held as a number of miracles and transformation. A container for rebirth and healing. A possibility for magic+miracles. For you.
You will be hand-fed materials to inspire and soothe you, to lift you beyond your tired beliefs about yourself, about your identity, about 'the problem". Every day for 40 days. With occasional private calling hours so we can talk and tweak and connect, you won't be doing this alone. (Also an option for extra Spell-Breaking sessions, 3, for even more support at half the price for regular coaching!)
This is personal for me. I have been gathering these pieces for a lifetime… but officially for 35 years, as I traveled through 20 years of clinical trainings that gave me a way to see and understand, then left that in 2008 to study with the most powerful healers and mystics I could find.
And the mix, that has served my clients for decades in their longings to be free of addictive patterns and the hell of compulsive or emotional eating and the pain of hating their bodies.
I am now in my 60s, my wise woman years. And this is my legacy, this collection of pieces that will love and care for you every day as you walk through the portal to healing, to relief, to reclaiming the wholeness that is already there beneath all the noise and all the habits.
Let yourself find peace now.
This is not time to be at war with yourself. The world needs your clarity, your love, your beauty, your gifts… It's time to let go of the rest, which does not serve you nor the whole.
Breaking The Spell- A 40 Day Devotion to Heal Emotional Eating
40 Days of the mystical and the beautiful. Unusual teachings, powerful practices and sacred rituals, endless love to be showered toward yourself each and every day, the truths that will matter, in a container that has signified transformation in cultures around the world since time eternal.
This is a self-guided journey with two levels of support, depending on what is right for you. Calling hours for anyone who chooses (1:1, with me during the program) or more regular intensive support with (3) individual Spell-Breaking Coaching Sessions to ensure the powerful outcome you're ready for.
The program will be available September 22, the fall equinox (email me if you want to register).  Feel free to message me to register now.
When you do you'll receive immediate/right now access to You Are The Temple, a gorgeous book of self-loving sacred rituals that will be the perfect way to get ready and accompany the program as my gift ($47 separately). Annnndddd… the first 20 to register are going to get a beautiful gift from me.
And you'll begin receiving daily materials on the 22nd… either way, you'll begin to immerse yourself in beauty and true care that will give you the inspiration and fortitude to do what you're here to do, to be the best of yourself, to release the weight of unworthiness, of habits that drain and demoralize, of all kinds of heaviness and weight… literally and symbolically.
This is my expertise. This is my passion. This is the realm I have taken hundreds of clients through to transformation for decades. For anyone who hasn't wanted to invest in individual work, or who has tried countless approaches and been disappointed… Or who has spent too much money at things that felt like the same rehash… This may be for you.
Take your pain and desires seriously… this is everything I can possibly give you tucked into a 40-day gorgeous container. Private. Powerful. Truly transformative.
Reach out if you want it. Contact me here to register or anything else, I always love to connect with you and get to know you better. Really.
All my love, plus 40 days of all my everything… xo lisa
PS- don't forget, you immediately receive a copy of You ARe The Temple when you register. $197 for the program. Additional pricing for 3 private sessions of Spell Breaking Coaching totals $497 for the program plus individual coaching (half the price of my individual sessions, just for those taking this program). xox